AXA story
I knew AXA would give me the well-rounded HR experience that I wanted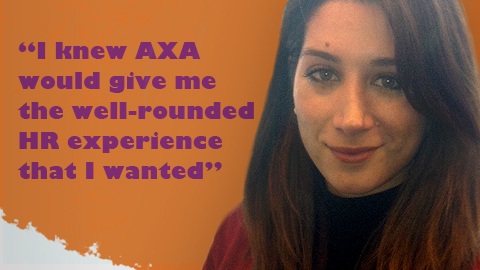 "I guess my background is a bit different to some of the others on the AXA graduate programme in the sense that I had already some experience before I joined. I knew that a company like AXA would give me the structured and well-rounded HR experience that I wanted and the rotations that were described sounded really interesting. In my first interview, I realised it would give me great exposure to important areas that would help me grow. And after my final interview, I was certain that it was the perfect programme for me!
The rotations mean that I get a deep understanding of the various processes across different businesses. They're tailored to the areas which are most beneficial to my development and interests, which I really appreciate. Currently, I'm being trained as an HR Consultant and I have already started working on my own Employee Relations cases.
One of the projects that I am currently working on is a review on the way two fundamental teams work and co-operate, and I have been given complete freedom around how to run the project and the recommendations I put forward. It was a bit daunting at the beginning as it was something completely new. But the feeling that you are pushed beyond your comfort zone, while seeing your ideas being well-received and implemented, is very satisfying.
I can constantly see the investment that is put into helping me grow. I get the chance to be creative and express myself in unconventional ways, which is a great learning curve! The best thing about the programme is that I've never had to change my personal style to succeed."