AXA story
How to make your CV stand out from the crowd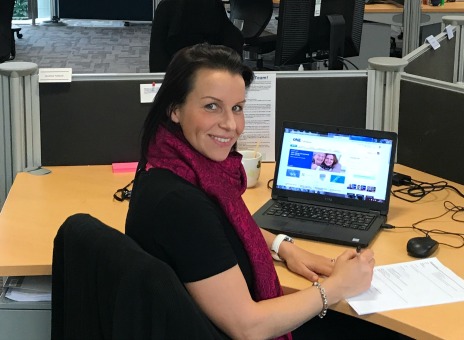 Andrea joined us as IT Resourcing Consultant three-and-a-half years ago. Since then, she's sorted through hundreds of CVs and certainly knows what makes a candidate stand out from the crowd. We caught up with her to find out her top tips for making your application shine and how to avoid it ending up in the recycling bin. Over to you, Andrea…
Keep your LinkedIn profile updated
It's important to stay active and to connect with people and companies on professional sites. LinkedIn helps you build your network as well as knowledge about other big brands and companies that may be able to land you that big CEO job one day. Unfortunately, not everybody can be Mark Zuckerberg or Elon Musk, but that doesn't mean you shouldn't be proactive and driven. The best candidates I encounter are all highly self-motivated.
Volunteer your time
AXA is a massive ambassador for Children in Need, Alzheimer Research UK and actively supports multiple charities. Doing charity work speaks volumes about your character and the values you hold dear. Just because you didn't get paid for standing outside all day wearing the RSPCA Saint Bernard mascot costume doesn't mean you won't reap rewards for this charitable act long-term. So don't be shy to list these selfless deeds and briefly explain the nature of the work you did. 
Highlight your transferable skills
As the name suggests, a transferable skill is something that can be taken with you and applied to multiple other roles in multiple different industries. These are core skills that prospective employers value such as:
People skills – your ability to communicate effectively or motivate and lead a team or successfully coach or train people.
Technical Skills – it's vital to have a knowledge of standard software apps such as Microsoft Office … everybody uses Word, Excel and PowerPoint nowadays.
Data Skills can relate to record keeping, statistical analyses or research skills. If you're leaving school, college or university and have limited work experience, make sure you highlight the transferable skills that you acquired during studies or part time jobs.
Make it look 'wow'
We live in a world where appearance is everything – and that goes for your CV, too. Take some time to prettify it. Leave plenty of white space around the text and between categories to make the layout easy on the eye. Get creative! Use graphic images to introduce subheadings and don't be afraid to inject some personality into it. I would much rather read how you changed the world than how you forced yourself to conform to a standard CV template.
Tailor it
Take the time to adapt and mould your CV for each role that you apply for. PLEASE don't follow the one-size-fits-all approach! Research the company, their vision, their values, their mission statement and use the job advert to figure out exactly which skills are worth highlighting and which are best kept for an after-hours social. While it can be tempting to exaggerate your skills, most recruiters will quickly figure it out if you're over-embellishing your background and experience, so keep it real.
Personal Statement
This is your opportunity to really sell yourself to the potential employer. It should be short and punchy highlighting your key skills, experience and career goals. Tailor your statement to match the job application so that your skills and experience are an obvious match for the job.
You've heard what you need to do to make your application stand out. Now's the time to get your CV sorted so it's ready to send off when you find the opportunity you've been waiting for.