AXA story
How losing my voice helped me find a new path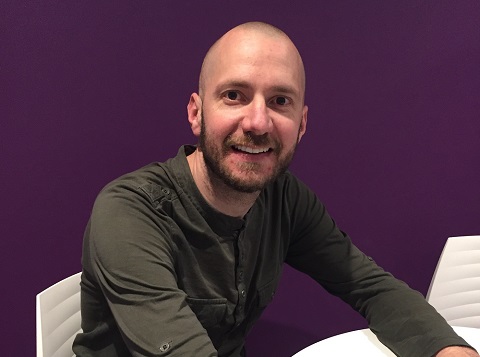 Changing your job doesn't have to mean leaving a company. There is a strong focus on Internal Mobility within AXA. It's important to us that employees can discover new opportunities to grow and develop. Sometimes it's because you're looking for something new and different, other times it can be down to circumstances outside of your control. But no matter what happens, there could be another path for you just around the corner. Like with Jamie, a Resourcing Co-ordinator at AXA. Here's the story of how he came to work in HR.
I've worked at AXA for ten years. I'm now a Resourcing Co-ordinator, but that's not the role I started out in. My career with AXA began in Customer Services. For eight years, I worked taking calls from customers about their claims and policies. Then I became ill with a bout of severe Laryngitis. It lasted for six weeks and I lost my voice. It actually disappeared completely for six months and I had to undergo speech therapy to help me regain my voice. Of course this had a huge impact on my career, because suddenly I was unable to do my role. Without a voice, I couldn't take calls in the Customer Services Team.
That's when I realised that there were other opportunities available to me within AXA. I moved around a bit, working in different roles in Fraud, Claims and Complaints Resolution. Then I moved to HR. I didn't have any background at all, but from the very beginning I felt so supported by both the Hiring Manager and the team. I spent time liaising with existing co-ordinators to get a better understanding of the role and one of the team offered me training over a one month period. It was such a smooth transition into the Resourcing Team and they all made me feel welcome.
It's really benefitted my career to experience a range of roles across different departments; I've become more business aware and have a greater understanding of AXA as a whole. I've built on my knowledge and skills from the projects I've been involved in, and each role has offered me something new. I actually get a lot of internal enquiries, because people know I have a wide network and skillset from moving around in AXA. And it's not just me. I know quite a few people who started at the same time as me, all those years ago, who've also had the opportunity to move around.
If you're looking to move roles within AXA, my advice would be to spend time with the teams and find out if that role is really for you. Ask lots of questions, and really investigate. You need to make the right choice for you and that's different for everyone. But also, don't be afraid to step outside of your comfort zone. AXA can offer such a wide variety of experience and opportunity, and they'll support you to make the transition as easy and enjoyable as possible.