AXA story
How to know if you'd make an amazing Claims Handler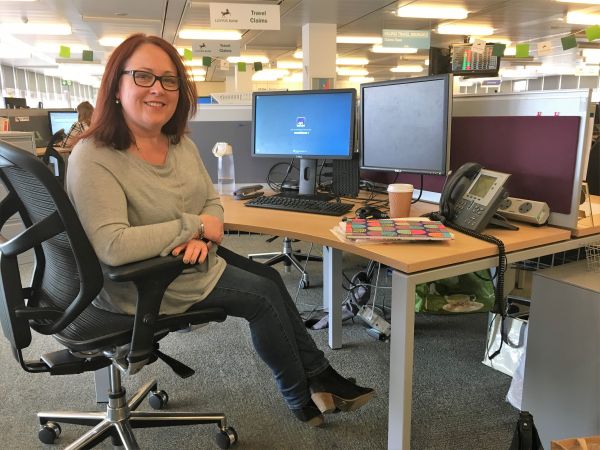 It's not always obvious which route we should take in life, even if we have our destination in mind. So how would you know if becoming a Claims Handler could be right up your street? Well, that's the position that Louise found herself in after she took a break from working full-time to focus on her family. Thankfully for Louise (and us) she found a role with us which fit her needs. Here's her story and advice if you're looking at your options too:
It was a friend who recommended me to AXA. I'd been an insurance broker for most of my career, going part-time to look after my children and then returning to work full-time. Only I found myself working in roles I wasn't really enjoying and I was eager to work for a large corporation again. My friend told me AXA was a great company, a fun place to work and that I'd have good career prospects. So I joined AXA almost a year ago, as a Claims Advisor.
I work within the Lifestyle and Travel claims department as a Travel Claims Handler specifically. We deal with a mixture of inbound and outbound calls from customers as well the claims documentation process: so I look at the documents we've received, assess them and make sure everything is in order. Then I put a payment through for authorisation and contact the customer to let them know.
We support all kinds of different customers and I really like the variety of it all – every day brings something new and different. You never know who you're going to answer the phone to or what kind of situation you're going to be dealing with.
Within my department, most people start off as claims handlers and are placed in a development framework starting on foundation. As a claims handler there are 3 levels you can work through. I've managed to work through the first two within my first year and have one left to do. So you can progress quite quickly if you want to. You can move up to a team coach and then to a team leader if you want to. It's all down to how hard you want to push yourself. The great part is, the opportunity is there.
The support really makes it for me. We have such a great team bond and our team coach and team leader are always there for us. We have monthly one-to-ones, to check in and deal with any issues. I've never had that before, it's really reassuring. The team are really supportive too. We rely on each other to help out so if one of us doesn't know the answer to something, there's always someone there who does.
Joining this team has been a great step in my career. And while I can't tell you if this role would be right for you, what I can tell you is that if you've got the ambition to push yourself, if you want to be part of a company with a wider purpose, if you want to help people and make a difference, AXA is really a great place to do that.