AXA story
How being curious can grow your career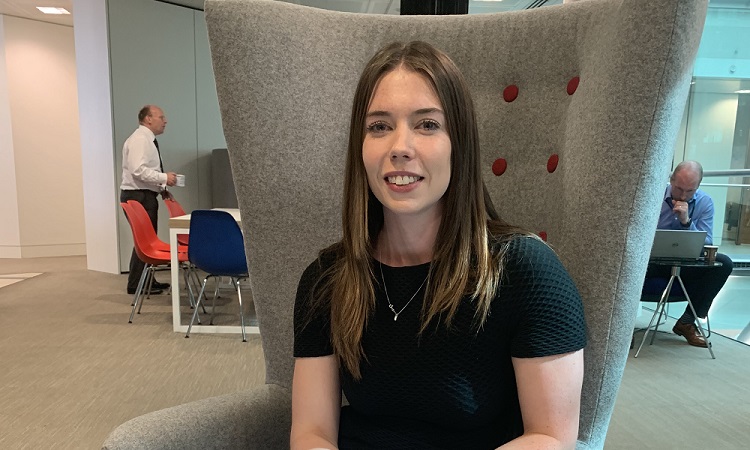 As a business we have to be open to new ideas and new ways of working to stay competitive in an ever-changing world, and as we grow, our people grow too. That's why we actively encourage and support our people to continuously develop their skills and take their careers further. Take Katie, New Deals Manager at AXA, for example. Since she joined AXA in 2013, she's been on a number of different courses which have helped her progress her career.
Taking the first steps
"I started out as a Personal Lines Manager working with brokers. After three years, I had the opportunity to join the New Deals team on secondment for 12 months. The role involved project management which was new for me, so I had to learn a lot at that point. After the secondment, I was made permanent within the team, and my manager put me forward to go on a course called AXA Ambition. It was designed for people who were ready to move to the next stage in their career and looking to be promoted.
Taking your skills to the next level
The AXA Ambition course ran over two and a half days. It was really intense but we learnt so much about ourselves and our personality style. We looked at how we work well with other people, why they might act the way they do, and why they might see things differently to you. We used each of these points to develop how best to work with those people and bring the most out of them.
It was designed for first-time managers or people who want to become managers, so there was a lot to learn around how to manage people. We covered generational management too, looking at how different generations view the workplace as well as working on our presentation and public speaking skills. Prior to the course, the delegates asked a group of people who we work closely with to provide feedback on our performance using the 360 management survey. It was really good to understand how people see me and to know what my strengths and weaknesses are so I can continue to develop as an individual.
The benefits of learning
Shortly after the AXA Ambition course, I had the opportunity to apply for the manager role within the New Deals Team, so this was perfect timing for me. I was able to take what I'd learnt and apply it when I interviewed for the role.
Being given the opportunity to take part in AXA Ambition has definitely had an impact. And it's a two-way street; I want to give more back because I was given the opportunity to go on the course. When you're learning and developing, you genuinely feel it benefits you on a daily basis and you want to keep improving.
The course also really helped me to grow my network, both across my own peer group and with senior management. AXA is such a big company and this course gave me the opportunity to meet so many people I wouldn't normally come across. Now I know a range of people from different areas of the business that I can pick up the phone and ask for help. We've also had access to senior managers through the course as they gave talks about their own careers and how they developed into their current roles.
Owning your development
We've launched a new platform at AXA called 'Yes Learning' which is a really good way for people to access learning and development online that's bespoke to them. There are lots of different courses available on our intranet, so if you want to learn a bit about negotiation, you just go online and find the course.
If you're given the opportunity to do a course of this nature, I would 100% recommend it because it definitely brings to life some of the theory around management, people and how to do better in your role. You'll be pushed out of your comfort zone, which is really important in personal development and growing in your career. I think AXA know how important learning and development is for their employees and how it can benefit everyone because it helps the entire workforce to grow. When we're given new opportunities or roles we don't always have all the skills that we need to work to the best of our abilities. So learning and development is really crucial in helping to open doors and help people build their career. If you push yourself and want to develop personally, AXA will support you."