AXA story
Four reasons I love my job with AXA Motor Claims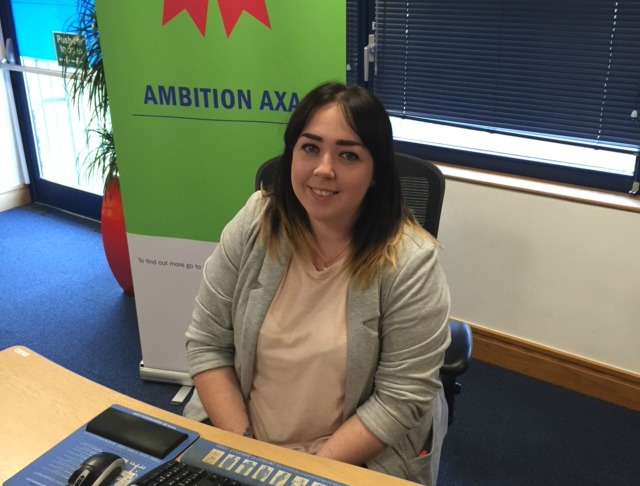 Ciara joined us in April 2015 from a background in retail. She's had a brilliant start and is already on the promotion ladder. Here's her take on what makes AXA the workplace for her.
1. We have a say in our development
I'm currently a Claims Advisor, and it surprised me how much I genuinely enjoy the role. I'm excited that soon I'll be starting my new Senior Claims Advisor role. I'll have more authority, and I'll be coaching junior team members and supporting the Team Leader too. My Team Leader encouraged me to go for the position, and then another manager suggested I should go for it, so I got the boost I needed to apply – it feels really good to know they see my potential.
I have a personal development plan, to decide with my Team Leader where I want my career to go. I could try out other departments and work if I wanted to, though at the moment I want to build my knowledge as much as possible, and progress through to more senior positions.
2. There's great training, and they listen to us
When I started, I had a few weeks' training to get to grips with the policies and build the key knowledge. After that I started making calls to prepare for the normal work. It eased me into the role and there were a lot of chances to get feedback on my progress too.
I've applied to start my Certificate in Insurance soon, which the company fully supports. It's a brilliant way to get a recognised qualification that expands on my knowledge, and will help my career.
AXA Motor Claims also has an 'Innovation Station', so we can make suggestions that are actually listened to. They love to hear our ideas. And every month, we'll get feedback from the managers about their thoughts on the ideas and an update on what they will action next. It's nice that you feel heard.
3. It's such a lovely, social place
The best part of working here? It's the people. We're a sociable bunch; everyone gets on and has a laugh together. Our managers sit with us, they're not hidden away in offices and they're easy to talk to.
It's a fun place to work with lots going on, like pancake-tossing competitions and little Valentine's treats for us too. They'll set up competitions between teams for things like Best Christmas Decorations, with some lovely prizes – my team once won a meal out for us all.
4. The job is a great fit for me
You'll get on well here if you're a people person, because there's so much more to get out of this workplace than just doing your job and going home. We work as a team, keeping each other motivated and pulling together during the busy times.
Confidence goes a long way in this role, too. Every job has its challenges, so it really helps if you can keep taking a fresh, positive approach. It's about focusing on doing all that you can to make the customer's situation better. That's the part I love – that we're genuinely helping people.