AXA story
Flexibility and opportunity: Q&A with Haroon Kola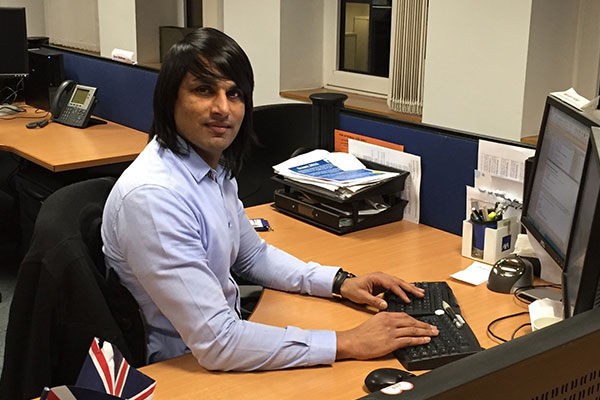 Meet Haroon Kola, one of our Ministry of Justice (MOJ) Personal Injury Negotiators. He's been part of the AXA team for 13 years now, so we decided to ask him for his perspective on our Birmingham Motor Claims department. 
So tell us, what does your role involve?
I negotiate the settlements of third party submissions, between £1,000 and £25,000 in value. I also assess injuries, check the validation of policies, look out for fraud concerns and carry out investigations within the MOJ's guidelines.  I assess whether all of the evidence matches up, and handle claims from start to finish in the best possible way.
We have our Team Leaders on hand to help us if we need it, and the team is really friendly and relaxed. It's a nice environment, quite fast-paced with a constant flow of work, so there's never a dull day.
What sort of direction can your career with AXA take?
My time with AXA has already been quite a journey. I originally started with AXA working as a Team Leader in the Admin team, then moved onto working on various projects within the IT department, then as a Claims Handler, and then I spent time with the Quality Assurance team before my current role.
And I could still go from here into lots of areas. You don't have to stay on a set route. I could go on to be a Senior Technical Negotiator, or train other people instead. It's great to work in a company that has so many options open to you. It's one of the reasons I was attracted to AXA in the first place.
How are you supported? And how are you able to develop yourself?
It's really important that I can look after my career and the needs of my family. I don't have to struggle between work and home life with AXA, because my hours balance both. AXA is reasonable and offer flexibility where they can.
As for your further development, you can put yourself forward for a range of courses. They're also very supportive with Certificate in Insurance qualifications, such as allowing you study time. Your achievements are recognised, and your managers will always help you to open up all the opportunities available to you.
What would you say to someone thinking of joining AXA Motor Claims?
You have to be friendly and a team player, and it's good if you have customer service experience and some understanding of the industry. But most of all, if you're prepared to work hard then you will reap the rewards with AXA. They'll recognise your efforts in your annual review, so it's in your interests to do the best you can for yourself and for the company.