AXA story
Creating a more inclusive workplace for LGBT+ and beyond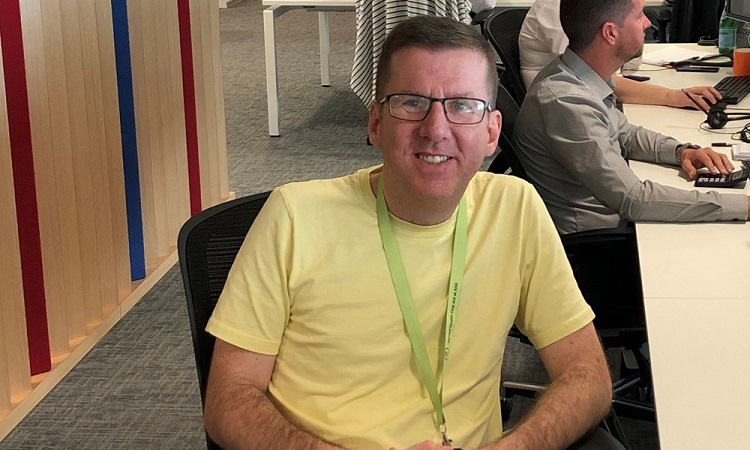 The UK has made some great progress in recent years when it comes to LGBT+ rights, but there's still more that can be done and especially when it comes to the workplace. Research conducted by Stonewall and YouGov in 2018, showed that over 35% of LGBT+ staff have hidden that they are LGBT+ at work because of fears of discrimination *1. We know that we're stronger when we work together and support each other. The more we can create an inclusive environment, where everyone can bring 100% of themselves to work, the more we can achieve. That's why we've been speaking to Alan, who works in the Customer Experience team in Glasgow. We wanted to hear about his experience of being part of our Pride Employee Resource Group (ERG) and how they're creating a more inclusive environment for everyone.
Better together
I joined the group around three years ago and at the end of last year I was made Deputy Chair of the group. The LGBT+ community have really had to fight for their rights and we all know there's a still long way to go. Other countries don't have the same rights as the UK, so for me it's important to be part of this and it's great that AXA supports us. It shows we're a truly inclusive and supportive company and it really sets us apart from other companies. It's not the only group either, we also have a Gender Equality ERG and we support working families from a flexible working perspective.
Taking Pride in our actions
Our overall objective with the group is to promote an inclusive environment at AXA and to engage with our allies who support the local community. This year I'm involved with making sure everything goes to plan for the Pride festivals in Suffolk, Glasgow and Bristol. We're also organising a series of events for days like the International Day Against Homophobia, Transphobia and Biphobia and National Inclusion Week in September. In terms of the community, we actively support a football club called Rainbow Laces and we screened a film called 'Coming Oot!' with a Q&A in Glasgow recently. We're always looking to get more support and build our allies network.
Breaking down barriers
Things have changed a lot from when I first started out in the insurance industry. Back in 2001, it was predominantly a white, male industry to work in and there weren't as many women around. It wasn't easy for me to come out in that kind of environment at 21 years old. I think times have changed for the better, but that doesn't mean we should be complacent.
It's important for us to keep the conversation going around events like the International Day Against Homophobia, Transphobia and Biphobia. It's still very much an issue in society, transphobia especially. So we're going to hold talks across our UK offices for employees to find out what homophobia, transphobia and biphobia are. We're going to screen a video, created by Vodafone, about the stigma of being gay and not being gay, but still being part of the LGBT+ community. Then at the end we plan on having a Q&A session for people to ask any questions they have.
Changing perceptions
I think having a more diverse workforce helps towards creating a more inclusive one. We send out feedback polls every couple of months and over 75% of people have said that they think of AXA as an inclusive employer. We've been doing a lot of work with Stonewall recently; we're trying to work on actions for the future and what we still need to do to progress and move forward. My advice is to speak out and not accept it if you see any signs of homophobia, transphobia or biphobia, whether that's against you or someone else.
We're committed to supporting both diversity and inclusion, so that all our employees can bring 100% of themselves to work. Our values and culture help to create the kind of environment where people can be themselves and individual differences are valued. Interested in joining us? Take a look at our current career opportunities now.
*1. https://www.stonewall.org.uk/power-inclusive-workplaces