AXA story
Complaints handling is challenging but hugely rewarding too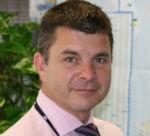 The world of complaints resolutions may be challenging but as Mark Harris, Quality Director at AXA Direct & Partnerships, explains, the ability to turn customers' dissatisfaction into satisfaction is hugely rewarding, too.

What jobs did you have before joining AXA? I've only ever worked in financial services. Over the last 25 years I have worked for Prudential, Churchill and RBS before joining AXA, and I have spent all that time in compliance roles. I was Head of Compliance and Governance at Churchill Group.
You've recently taken over as Quality Director. What is your vision for your teams? My vision is simple, ensuring fair outcomes for customers through great complaints handling, effective root cause action and in strengthening our service culture.
How important is it to be customer focussed? It is beyond important, it is our livelihood. We are here to deliver a return to our shareholders of course, but holding our customer at the heart of all of our decision making is both the right thing to do and increasingly expected of us.
Complaints Resolution is a challenging area to work. How important is it that we treat customers fairly? Complaints handling is challenging, but ask our complaints handling professionals about their role and you will also see that it is hugely rewarding too - the ability to turn dissatisfaction into satisfaction and also advocacy is a great privilege. Our customers are our reason for existing and we should all think about our customers in every decision or action we make.
How will the Complaints Resolution teams work with the rest of the business? Operational teams have benefited from the feedback and coaching from the complaints handling teams in the past, and that will continue to be important to help support our operations colleagues. We are also improving our approach to root cause analysis which will help us improve those practices and processes that can fail and cause dissatisfaction - if we can improve areas where customer experience poor outcomes it will make our customers' lives better and make our peoples' time in work better too!
How do you see the FCA working with insurers in the future? The FCA are in my view driving a greater consumerist agenda than we have seen from regulators in the past - we could argue that insurance is not the same risk as the investment banks and we'd be right, but customer confidence is key to the rebuilding of the global economy and a successfully operating insurance market is part of that – the FCA is trying to work with insurers to re-build consumer confidence, it can only do that by tipping the balance more towards consumers, ensuring fair outcomes and removing unfairness in policies, promotions and sales behaviours.
Is it better to retain a complaining customer or let them leave? Sadly, most customers who suffer a poor outcome or are dissatisfied don't complain - they simply walk away. Those customers who do complain about a poor outcome are giving us an opportunity to put it right and we should rightly look on that opportunity as a gift. Turning dissatisfaction into satisfaction is a wonderful feeling and one of the real benefits of working in a complaints handling team - more than that, many customers who experience a well handling complaint will go on to become an advocate of that firm, more so than had the reason for the complaint not happened in the first place!
Considering complaints outside of the policy limits, are these ever justified? Policy limits are there for a reason and for the vast majority of claims and complaints are more than adequate to deliver a fair outcome. We can never rule out the possibility however that on occasions customers will experience a loss or an outcome which is not fairly dealt with by the policy - sometimes we need to consider the intention of the cover not just the strict words in order to do what is right and deliver a fair outcome.
When was the last time you had to complain? I'm not a serial complainer but I will if I think that my family or I are not being treated fairly. My wife was PTA committee treasurer for our children's school and went to open an account at a local bank branch. The business account manager was rude and dismissive (the income of the PTA not being large). The account manager didn't realise we were also personal customers at that bank. We complained, and received a swift apology from the branch manager and a bunch of flowers. We are still customers there.
If you could choose any job in the world what would it be? At 14 my only ambition was to be a Navy engineer, and I have long ago had to give up the dream of being centre forward for West Ham United! There are few jobs better than those where you are given the opportunity to start something new, to shape and form, to build and design, to create and influence. Combine that with the chance of improving our customers' experience, making their engagement with our business a positive one, then I think I've found it in my new role.
You're stranded on a desert island, what 3 things would you have with you?
Something practical - a Swiss army knife
Something frivolous - DVDs of my favourite classic films; Casablanca and Rear Window.
My guilty secret - an unending supply of Hula Hoops!
Mark Harris is Quality Director at AXA Direct & Partnerships