AXA story
Be 100% yourself at work whoever you are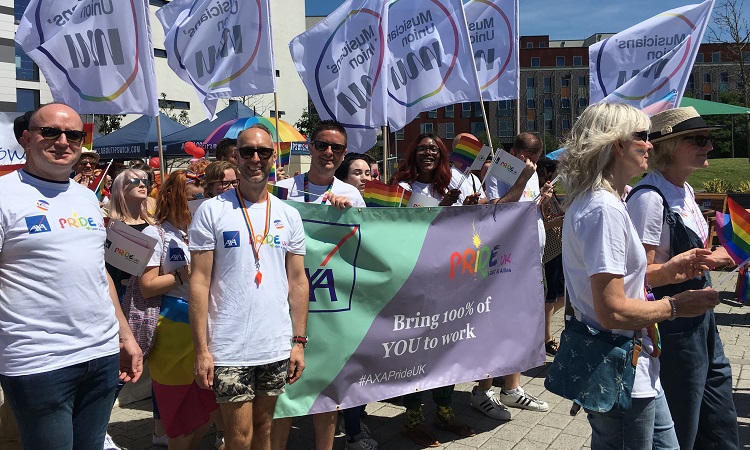 Cultivating an environment in which everyone feels valued and recognised is really important to us. That's why we have a number of employee resource groups (ERGs) to help embed diversity and inclusion in all that we do. The AXA Pride ERG is comprised of lesbian, gay, bisexual, transgender employees and allies and promotes LGBT+ friendly changes in the workplace. We spoke to Head of Marketing Communications, Karen Robson, and Workplace Administrator Martin Thompson, about the importance of making sure that everyone feels accepted and supported at AXA UK.
Martin Thompson has been a member of our Pride ERG since January and he loves being able to make a difference at work. "The ERG is important because we've been running nationwide workshops about LGBT+ inclusion," he explains. "For example, talking to customer services and getting them to realise that they shouldn't necessarily assume things about customers – a man might not have a wife or a girlfriend, so maybe use the word partner instead. It's things like this that make the LGBT+ community feel uncomfortable because you're assuming things about them."
Support from the top
Martin goes on to explain that the work the ERG does can only be successful with support from senior managers – it has to start from the top. That's where Karen Robson comes in. Karen is an ally – meaning she supports the LGBT+ community at AXA – and she's also an Executive Sponsor. As an Exec Sponsor, she represents the ERG at the Diversity and Inclusion (D&I) board and supports its chair people to allow them to be more strategic and drive results, as well as provide advice on leadership and be a sounding board to listen to ideas and give her thoughts. "Diversity is important to me and – having previously been able to use my marketing skills in D&I – I wanted to get involved in that when I joined AXA. When the Exec Sponsor vacancy came up, I went for it," says Karen.
"I believe when people give up their time voluntarily to do something they feel strongly about, they need to be supported by their senior managers – that visibility is really important. I've met the people for whom you can make a difference and that makes me want to keep doing it. I also firmly believe that a leader in 2019 needs to be passionate about respect and fairness and we should be encouraging leaders to listen to the LGBT+ community, accept their stories and value and affirm their experience."
Waving the flag
Like a lot of companies, we temporarily changed our logo this year on all our communications channels. Karen says she wouldn't have done this if she didn't feel the company was 100% behind Pride. "I would never have allowed it if I didn't think we had a genuine story here. And actually, because of my work with the Pride ERG, I've met lots of people who've said to me that it's made them feel proud to work at AXA. To see what it meant to them made me realise the impact of such decision."
For Martin, a company the size of AXA showing its diverse workforce is truly important. He went to the recent Suffolk Pride – his first Pride event, but definitely not his last – and was proud to say AXA had 25 people in the 3000 strong crowd. "It was amazing to see that the biggest employer in the area was there in the local community showing that it was proud of every person who works there. It's not just for show, AXA do care."
"I've been bullied by a manager in a previous job, I've been there, and I want to let everyone know that this kind of thing doesn't happen at AXA – people are supported to be exactly who they want to be."
Find out more about our history with Pride and see how you can get involved in our #StrideForPride campaign.