AXA story
AXA named as one of the Top 25 Best Companies to work for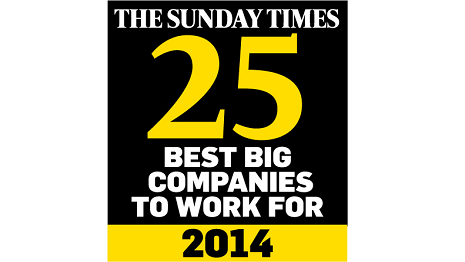 We're delighted that for the sixth year running, AXA has been named as one of the Top 25 Best Big Companies to work for in the UK by the Sunday Times.
Our family friendly policies, keeping in touch days, yoga classes and virtual learning courses, are just some of the reasons we have earned this special accolade, ranking us 22nd in this year's list.
And when it comes to giving back, AXA employees literally do it in spades! Gardening, painting, bracken beating we've done it all and this year we've been recognised for all your hard work. Plus, last year we raised over £500,000 for charity and dedicated over 22,000 hours to volunteering.
Picking up our award for AXA, CEO Paul Evans said: "I'm delighted that we've once again secured a place in the 'Sunday Times Top 25 Best Companies' in 2014. This award not only recognises all of the hard work that we put in to make AXA a truly great place to work, but also allows us to stand out amongst other employers as we aim to recruit the very best people into our business for the future."
If you want to know more about what it is that makes us a top 25 company, take a look around the site and read all about the great things we do at AXA.