AXA story
AXA Academy: Open, honest, sociable and supportive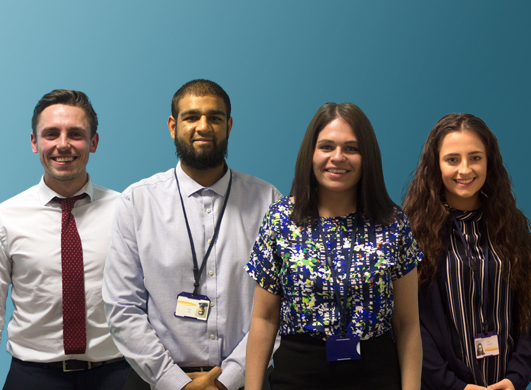 We caught up with some of our latest Liability Claims Academy recruits to find out what they think about the culture here.
So, tell us, what's the office environment like?
Jamil: It's a professional environment, but at the same time there is a culture that AXA is really proud of, which is all to do with our values. Everyone is engaged with one another, you have groups of individuals but at the same time, you can approach anyone in the office no matter what level they're at so even if they're senior leaders you can still talk to them. Feedback is valued here whether it's positive or constructive, it's all taken in a really good way. Whatever feedback I've given so far, I can see it's been acted upon in the greatest of ways.
Amy: It's almost as though there's too many people to chat to, actually I struggled to work out who my mentor was because there were that many people eager to help you! It's lots of fun too and friendly, so it's really nice and refreshing.
Rebecca: It's quite relaxed and fun in the office. It's obviously a formal setting, but people are quite light-hearted with things, everybody likes to get involved with everything. You can be open, honest and speak to anyone in the office, even someone right at the top! So it's really good and I'm really enjoying the openness.
Great! And what kind of support have you had through the training?
Rick: The training has been good. It's been split up so I've learned while doing rather than looking at presentations. 50% is presentations but then on the flip side, 50% of it is actually doing the work itself. And we've got mentors who we can ask questions whenever we want and they have reduced caseloads so they're basically just there for our questions, which is useful. You don't ever feel like you're interrupting anyone's work by asking a question.
So, if you had to sum up the best thing about working in the Academy, what would that be?
Rebecca: It's got to be the culture. Out of everywhere that I've worked, AXA's culture has got to be the best. I think it's very important that you can go into work and go up to anyone and ask them any question and like they'll answer you straight away or they'll take the time to help you with it. I've worked at some places where you feel like you can only go to your immediate manager and not above. Whereas here you can ask anyone anything. So the culture is a massive positive for me.
Amy: The culture here is about being the best you can be for yourself but also being your best for the other people. It's a real team environment, everything you face, you do it together so you get everyone's rewards together as well. Any recognition someone else gets is recognition for the Academy as well, it's great.
Jamil: The relationships and companionship is the best thing! You come to work and there's always someone you can talk to, always someone you can turn to. I always say to the other guys if there's something on your mind, just pull me aside and we can have a heart-to-heart about it. There are other individuals that are the same and it makes a big difference knowing that you've got that second family. It makes me emotional when I think about it because to go from joining the company and not knowing a single one of them to then being in a position a few months later where you can talk to them openly about anything, whatever is going on, at work or outside of work, it makes a difference. It makes me smile when I get out of bed in the morning.
Thanks for your words of wisdom, team. If Amy, Jamil, Rebecca and Rick have inspired you, sign up for our job alerts to be the first to know when applications for our Bolton Liability Claims Academy open again later this year.