AXA story
Another great turnout for #AXACRWeek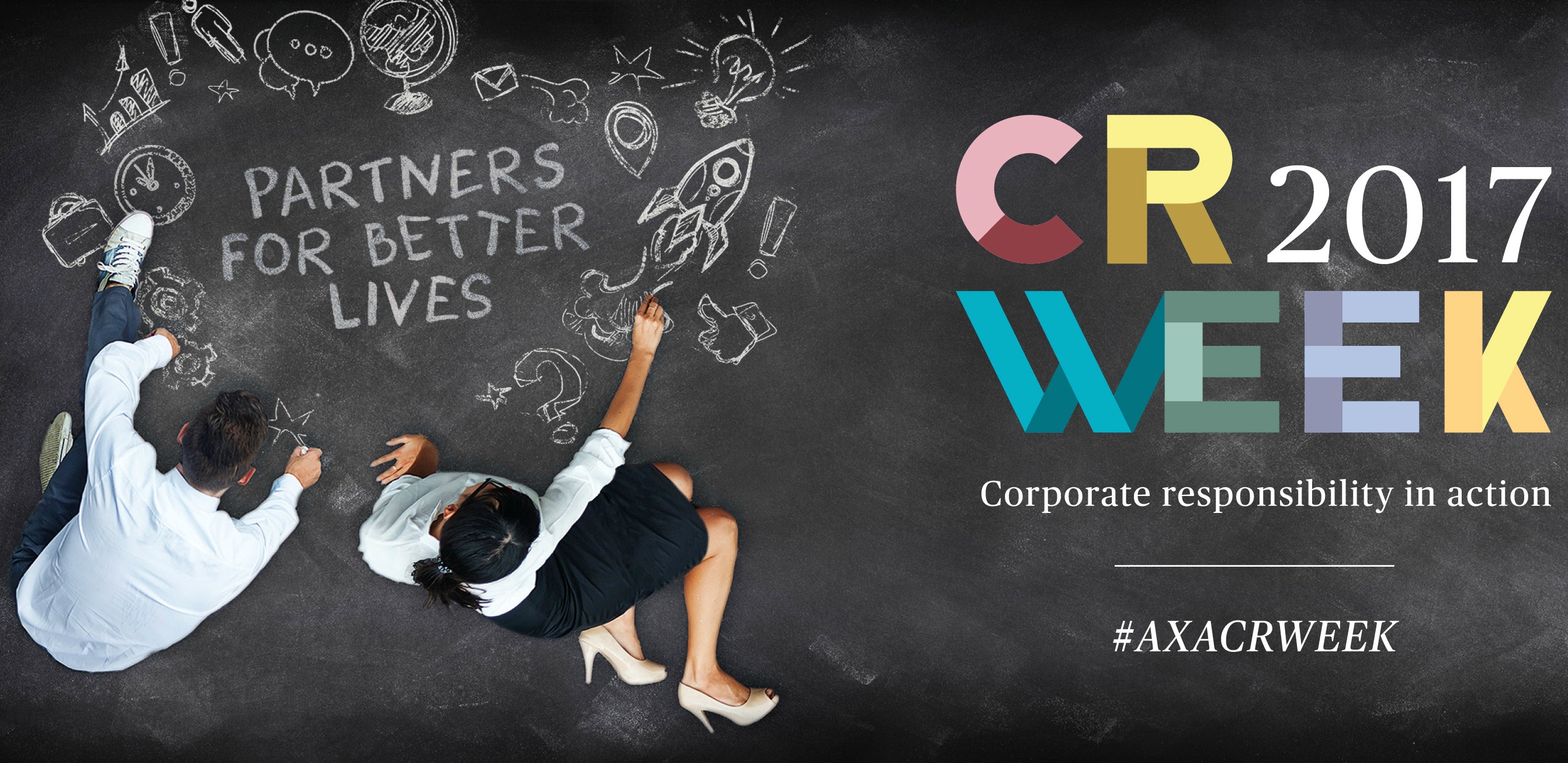 For the seventh year in a row, AXA employees around the world have united to take part in another successful Corporate Responsibility (CR) Week.
At AXA, we're passionate about being a socially responsible organisation, where our people are encouraged to get involved with helping their local communities and chosen charities as much as possible. That's why we have a whole week dedicated to giving back.
As the only truly global event in the AXA calendar, CR Week gives all of our people the chance to come together to work towards reducing our environmental impact and support local initiatives important to them.
From charity fundraising, volunteering and recycling, to learning about the health and wellbeing of ourselves and others, AXA people around the UK have been taking part in a multitude of activities themed around how AXA and our partners can empower ourselves, our customers and all of society to live better lives.
Here's a snapshot of what went on:
A few moments from our #AXACRWeek. Our staff did a great job supporting the local community @OrpheusCentre @DiamondRiding. #ProudToBeAXA pic.twitter.com/o9d6cgUWfC

— AXA Assistance UK (@AXAAssistanceUK) June 9, 2017
Our Bristol people made so much cake, their #AXACRWeek bake sale in aid of @ARUKnews & local charity @SmileWithSiddy lasted for two days! pic.twitter.com/EaUkSS8lQu

— AXA UK Careers (@AXAUKCareers) June 7, 2017
Thanks to @ARUKnews for lending us one of your brilliant lab techs to answer all our Alzheimer's questions last week in Bolton #AXACRWeek pic.twitter.com/dlvkJ88jSv

— AXA UK Careers (@AXAUKCareers) June 12, 2017
Great to meet all those who took part in today's quiz at @axainsurance as part of #AXACRWeek! This guy got a new home too :-) #woodenspoon pic.twitter.com/T3633PckOB

— Felicity James (@FelicityAlzUK) June 8, 2017
The wonderful @atticteabar popped in to see us on Tuesday for tea tasting and wellness workshops - sharing positivitea this #AXACRWeek ☕️ pic.twitter.com/jEwOjQ4ANc

— AXA UK Careers (@AXAUKCareers) June 9, 2017
And that's not all! AXA has teamed up with Impact Hub to find social innovators in the areas of preventing health, safety and cyber risks. We narrowed the contenders down to three very strong and worthy projects, and our people have been voting for their favourite to win. Find out more and watch the innovators videos on axa.com.