AXA story
An Interview with Emily Duncan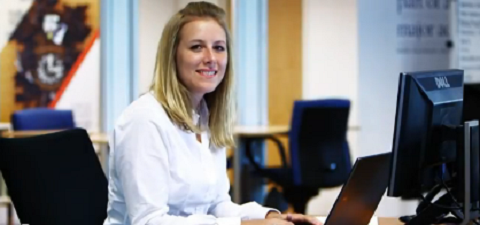 What made you decide to apply to a graduate scheme following university?
During my final year at University I was debating what path to follow. I had two options – one was pursue a dream of joining the RAF as a pilot and the other was to explore my interest in Business. My poor eye sight & inclination towards hayfever made the decision for me. I began researching graduate programmes around on the internet, through career fairs and word of mouth. AXA seemed the obvious choice as it has a real breadth of offering – you don't have to decide which particular career route to take as it gives you the opportunity to try placements in Finance, Marketing, Strategy, Project Mgmt, HR etc – virtually any role possible!
How many schemes did you apply to?
I applied only to the AXA programme and luckily got accepted. I think focusing all my energy on one application meant that I could give it a good shot. I would advocate applying for more than one though to raise your chances of success.
Was the fact that you had a guaranteed job at the end a factor in your decision to apply to graduate schemes?
No job is guaranteed – but yes, the fact that AXA are incredibly strong supporters and advocates of graduates certainly helped. You get a huge support network when joining so it felt like you are looked after – in return for working hard!
Of those you applied to, how many did you a) hear back from b) were successful at applying to?
Only applied to AXA and the process was smooth.
How challenging was the interview process?
Had to go through various exercises, interviews, assessment days – but the graduate recruitment team really put you at ease and make you feel comfortable so that you can perform at your best. The application process for any graduate programme is thorough and can be challenging, especially given the sheer numbers of applicants who apply which means they are competitive. However if you are a right fit for the organisation and the organisation is the right fit for you - then it should be an easy process! The AXA careers site has a Hints & Tips section which is useful for learning more about the process. It offers some really helpful advice about what to expect at assessment centres, preparing for presentations etc, whichever company you apply to.
What was involved at the assessment day?
Meeting senior managers, current and past graduates, a series of exercises, tests and interviews – plus a chance to network with fellow candidates at lunch.
Whilst in the scheme, what sort of training and skills did you acquire? Did you have a chance to work in different sections of the company?
Whole host of training and skills – got exposure to three areas of the company – one working in insurance marketing their products via corporate clients, one working in the strategy team of their international health insurer and one project managing in Wealth Management business. The programme provided a range of courses too on influencing, presentation skills, questioning & listening techniques, managing and dealing with difficult and challenging situations.
Did you get sufficient support from your employer during your training?
Yes – wide support network. Assigned a buddy (a past grad), a mentor (somehow to be objective and confidential), and a line manager to guide you in daily activity.
Would you recommend others to take this route following a university education?
Yes!
What advice would you give to people to ensure they have a competitive edge in the application process?
Personalise your application
Speak to as many graduates before the process to get their advice
Provide tangible real examples that provide evidence of the skills / experience that you are claiming to have – it makes it come alive more!
Follow companies on twitter / Facebook so you can get more of an insight into the company
Reproduced through the kind permission of Youth Employment UK CIC. For more youth employment news please visit www.yeuk.org.uk