AXA story
Adding your colour is all about bringing individuality to the table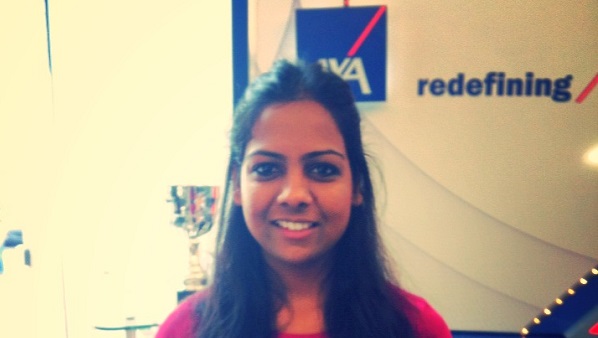 I'm Deepika and I'm a Risk Pricing Analyst. While I've always been interested in being an actuary, I ended up doing a finance degree because I knew it would give me a lot more flexibility in my career. When I applied to the AXA graduate programme, I thought what a perfect match it was, as I would get the chance to work on a wide variety of areas.
I love the fact that my work is mentally stimulating but still has a customer element. I find it exciting that real customers are going to be buying something based on what I do. It's such a great opportunity to be at the heart of that.
You need to be good at what you do here. You need a good understanding of your chosen field because insurance is such a competitive industry that you need that overall awareness. Exams are obviously a huge part of ensuring you get that understanding - and what's great about AXA is that they are really good at helping you find the work/life balance. They support you every step of the way and give a really generous study leave – around 40-50 days, which really does ensure you have that balance.
In day-to-day working life, all of the people I work with are open to helping you and that makes for such a friendly team. All my questions are taken into account and my views are considered too. We're a close team and we work well together with lots of interaction. Senior colleagues are always really happy to help with technical queries and deal with more general enquiries so there's ample opportunity for training and specialist expertise.
While the structure of what we do is fairly rigid, there's definitely creativity in the output. A spectacular freedom in fact, which is important, as it enables every individual to add value - or add their colour. We have an idea log that you can just go and type any crazy idea in to and it will be listened to – well, you know, as long as it's on topic! But seriously, it's an open invitation really and it's a great way to see what ideas people have and see them come to life.
You're not a number at AXA, you're your own individual with really valuable input. In my case, this was seen through my contribution to the marketing team. Although I'm really analytical, I've had a really varied background in terms of work experience, which has meant that I've been able to bridge a gap between the two teams and be really valuable to both sides because I understand what each team is doing and can help them communicate in a way that they couldn't before. That's what adding your colour is all about - bringing that individuality to the table.
Deepika Diana