AXA story
Adding our colour to the University of Warwick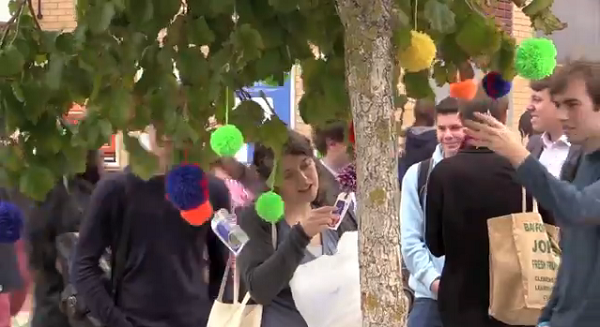 We love it when people use their creativity in bright, bold and unexpected ways. And we love doing the same. So following on from our yarn bombing last year, we went pom pom-tastic in October.
We made over 100 pom poms in a variety of colours and sizes and had fun adding our colour to the University of Warwick's piazza. We hung the pom poms from trees and then had the chance to see the reaction from the graduates passing by. With tags hanging from the pom poms, we invited people to add their own colour to AXA and find out more at our website.
We've also had great fun at the career's fairs across the UK this year, prior to the closing dates of our Investment, Global Actuarial, Business Leaders and Finance Future Leaders programmes and summer internship. We let graduates add their colour to cupcakes with lots of different icing and decorations and we got to show off our beautiful bike, in all its Technicolor glory, too.