AXA story
A new direction, website and social media strategy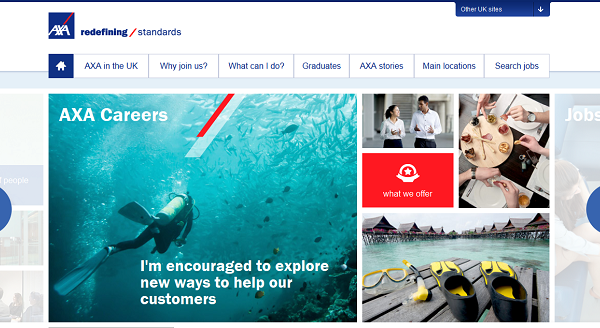 The new AXA Jobs website is now live! Our former website served us well, and its design was great, but it was time for a refresh. Our new site has a clean, uncluttered feel, which is a whole lot easier to navigate. We've used large homepage images to convey our key employer messages, and the site is structured in a way that ensures you'll get to the information you need, quickly and easily. Most importantly, the site adapts its layout to meet the dimensions of the browser it's being viewed upon - this is called responsive design, and it means you get the best user experience, whether you're visiting us on a phone, tablet or desktop.
You can find out more about us as a company, what we do and what we can offer you. From learning and development to rewards and benefits, we cover it all. We showcase the people who work here, too. You can hear from a wide range of people from all of our operating companies, whether they've been with us two months or 20 years. We have a specific graduate section, detailing exactly who we're looking for, how to apply and the application process. Plus, there are lots of stories from graduates and alumni.
We want to share these stories beyond the reach of our website, so we've also looked at and changed how we approach social media. We're using Twitter, LinkedIn, Facebook and YouTube to share career-related content, encouraging more people to read articles and then visit our site to find out more and search for jobs. We've two Twitter accounts; one for experiences hires (@axaukcareers) and one for graduates (@axagraduates). Our graduate account already has over 1,600 followers.
We really pleased with our new website and social media strategy, we hope you are too - and we'd really like to hear what you think.