AXA story
A customer service role that grows with you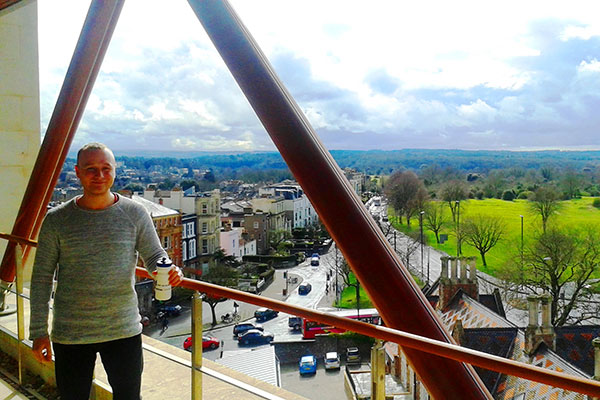 Rob Fox explains why he's enjoying working in customer service in our Bristol office.
I joined the AXA Health Bristol team in August 2015, after graduating from Cardiff University and returning to my home town. I had gained previous experience in outbound telesales while I was studying, I'd heard AXA was a great employer and I knew my way around a telephone, so all in all I thought it was a great fit – and I was right! 
A stepping stone to success
My first six weeks were dedicated to training. The first week was all about finding my feet, meeting the team, getting to know my way around the office and getting to grips with basic healthcare. Weeks two and three were telephone training. We were taught to think from the customer's point of view and how to explain things in an empathetic manner, what's covered from a medical point of view and to explain what happens when conditions aren't covered by a specific policy. 
Next, we moved on to the other side of the role, payment of invoices. We don't just speak to people on the phone, we need to pay invoices from hospitals and surgeons and reimburse members for any payments that they may have made, so weeks four and five were all about how to do this. Our sixth and final week was 'stepping stone' week, so-called because we spent a couple of days taking phone calls and a couple of days working on invoices, all with lots of support and feedback on what we were doing right. My training was just the right mix of detail and support, allowing me to get to grips with every aspect without feeling overwhelmed. We were taught how to swim without being thrown in at the deep end!
Location, location, location
We're in a great location just by the Clifton Downs, which is a huge open space, and the top of a busy, bustling high street. It's easy to get here as a cyclist and there are showers in the basement along with lockers and a safe place to store bikes, too. There are excellent bus links here as well, which is really useful. The building itself is modern and only a couple of years old so it's light, bright and airy. And there's no cubicle working here! We have bench desks with six of us in each pod and small dividers, which makes it easy to chat in-between calls, whether that's a work related question or a query about our social plans! My favourite bit about the job is the people I get to work with, everyone is friendly and easy-going, and we quite often organise a social get together for a few drinks on bonus day or a trip to the local go karting centre.
The on-going training and support has been fantastic. Every month we each have a one-to-one sit down with the performance team, to look at the number of calls we're taking and the quality of those calls, just to make sure everything's on track – and it's also a chance to ask questions. Every month or so I have a one to one with my line manager as well, so there's lots of support available.
Happy hour
Looking to the future, I'd love to progress further within AXA, and there's a lot of support for that and because the company is so large, there's definitely the opportunity to progress if you've the desire and the ambition. I'm unsure just yet where or what I'd like to move into but helpfully AXA has a 'happy hours' programme in place – unfortunately not at the pub! –where you can shadow another role for an hour, to gain insight into what they do and what it's like working in their department. I've undertaken one of these so far with the underwriting department and have another scheduled with the fraud department, which I'm looking forward to. It's a great way to dip your toe in the water and gain experience with different positions without having to make the big leap of changing jobs.
Working in claims for AXA gives a good foundation for learning about insurance as well as developing transferable skills and I'm thoroughly enjoying my time here.
Friendly and understanding? Want to join our team of budding customer service enthusiasts? Find out more about our current vacancies here.