AXA story
A culture of development, flexibility and opportunities`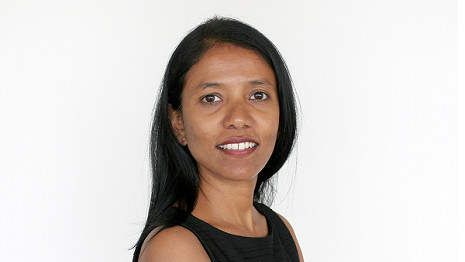 Hi, I'm Neetu and I'm Head of New Deals for AXA Commercial Lines The team came together late last year and I joined at the beginning of 2014. We support the implementation of new deals, so we provide support from start to finish i.e. from tender stage to full implementation, to allow branches to concentrate on what they do best: trading.
I started at AXA in 2004 in India. I was a team leader before moving into a project management role and was involved in a number of UK projects, so when a full time position came up, I took it. I spent five years as Offshoring Relationship Manager before moving into my current role five months ago. My proudest moment was project managing the opening of the Bristol and Newcastle branches. Our CEO , Amanda Blanc, joined us in 2011 and she wanted to revitalise our branch network and geographical footprint so that we could reconnect with our brokers. The biggest challenge was that we didn't have an office in Newcastle already so we had to start everything from scratch from office space to IT, to recruitment! We had a deadline from Amanda that couldn't be moved, and luckily we had a great team that pulled together to make it all happen on time.
I enjoy the varied nature of my current role. I love the excitement of deadlines and all the pressure it brings, and I like making a difference to branches – it's hugely satisfying supporting them in achieving their targets. There's such a huge level of support at AXA and I've been involved in lots of training to help me reach my potential. Each year, we're encouraged to write a personal development plan detailing what you want to achieve and the training that you think would help you. As long as there is the budget you'll get that training. I've found the management training particularly useful because the professional trainers we learn from promote tried and tested methods. It strengthens the abilities I already have and stretches me both personally and professionally. Thanks to all the training I've been offered I'm now a Six Sigma Black Belt and a PRINCE II practitioner.
For anyone looking at AXA as an employer the culture here is a great attraction. AXA was yet again on the Sunday Times top 25 best companies to work for. It's a brilliant company focused on employee development, offers flexibility and opportunity. Few companies have that in my experience and it really stands AXA apart.