AXA story
5 things you probably didn't know about our Liability Claims Academy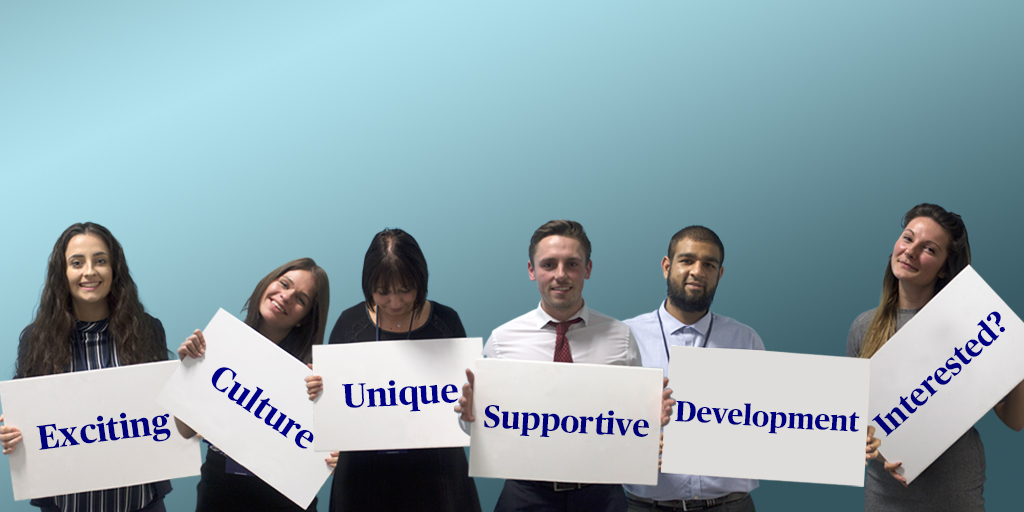 Our Liability Claims Academy in Bolton provides exciting learning frameworks that are designed to give every single employee the best possible learning and development opportunities. But what's it really like to work there? We got together a bunch of people from the Academy to tell us what they think makes it so great.
1. The culture is fantastic
"Out of everywhere that I've worked, AXA's culture has got to be the best. I think it's very important that you can go up to anyone, ask them a question and they'll take the time to help you with it. I've worked at some places where you feel like you can only go to your immediate manager and not above, whereas here you can ask anyone anything. The culture is great and really supportive." Rebecca Cuming
2. We're a mixed bunch
"It's a very diverse team and there are people from all kinds of different backgrounds with all different personalities. We've got some people that really want to shout and celebrate success for themselves and for their colleagues; some that are a lot more studious; and some that want to naturally lead. We have a massive mixed bag of people and they're all bringing something really unique." Deborah Talbot, Team Leader (Liability Claims)
3. You'll grow as a person
"When I first started here, I knew I wanted to start a career but I didn't know in what field. I look back at some of the referrals I did when I first started and I think "wow, my knowledge has come a long way". I've noticed a big improvement in myself but it's all thanks to the support from everyone else." Jamil Najak
4. We'll listen to your opinions and take on your ideas
"One of the other Academy members and I came up with an idea for the unit to run, called "Let's Talk". I had to go in and pitch that to the team leaders in the senior management meeting. They loved it and it's now live! We had a launch day on Monday which was really exciting." Rebecca Cuming
5. You'll learn something new every day
"Working in liability claims, you never know what you're going to get. Every single file is completely different to the last which keeps you on your toes, but there's always something there to support you if you need it. When I'm given something new to do, I feel comfortable asking as many questions I need to to make sure I fully understand. You're never just chucked in and left to get on with it – there's always someone on hand should you need them" Richard Breheny
If the team have sparked your interest in joining our Liability Claims Academy, make sure you're signed up to receive AXA job alerts for Claims roles in the North West region. Applications open once a year, so don't miss your chance to apply!